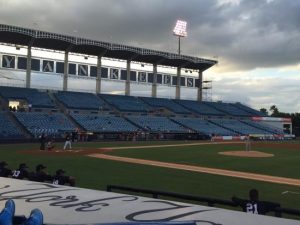 Well folks, we made it. Later today, the New York Yankees will host the Toronto Blue Jays at George M. Steinbrenner Field for the first game of Spring Training. All eyes will be on the health of returning stars Aaron Judge and Giancarlo Stanton as well as incoming starters Jameson Taillon and Corey Kluber. Yet, there are plenty of guys on the fringes of the roster trying to head north with the big league club. Who has the edge before the games begin?
First, we have to look at the locks. On the position player side, the Opening Day lineup would appear to be set (barring an injury of course):
C Sanchez
1B Voit
2B LeMahieu
SS Torres
3B Urshela
LF Frazier
CF Hicks
RF Judge
DH Stanton
Assuming the Yankees carry a four-man bench (13 hitters and 13 pitchers), that leaves four spots up for grabs. Three of those spots would seem to be set too. The backup catcher figures to be Kyle Higaahioka. Sure Robinson Chirinos is in camp, and he has a strong history and rapport with Gerrit Cole from their days in Houston. However, he is a 36-year old on a minor league deal. Meanwhile, Higgy was Cole's personal catcher last fall, has shown sneaky pop with the bat, and won't be a free agent until 2025. His spot is all but locked up, as is Tyler Wade's. Wade's biggest competition appears to be Thairo Estrada. While many fans seem to want to put Derek Dietrich into this discussion, Dietrich has one thing working against him; he has never played shortstop in the Majors. If the Yankees were to carry Dietrich instead of Wade or Estrada, they would only have Gleyber Torres as a capable shortstop on the roster. Wade wins out over Estrada because of his value with the glove and his speed. Wade's speed is even more valuable considering the extra innings rule that will carry over from 2020 that states a runner will start each extra frame on second base. This makes him a fairly safe bet to head north with the team. Brett Gardner is also a lock given his contract and status as a leader on the team. He could be the only bench outfielder capable of playing centerfield.
That leaves just one bench spot up for grabs. Mike Ford, Jay Bruce, Dietrich, Mike Tauchman, and Miguel Andujar will be left to fight for that spot. After struggling in 2020, Tauchman could find himself on the outside looking in when camp breaks. If his offensive game is closer to his 2020 self than his 2019 form, he still offers a lot defensively and on the bases, but could be deemed redundant with Brett Gardner on the roster. Tauchman would either have to be traded or passed through waivers if he does not make the team as he is out of options. Mike Ford also struggled to find his footing last year. As a lefty bat with power, Ford's offensive profile fits what the Yankees need, but his lack of defensive versatility will surely work against him. Miguel Andujar has been working on his defensive versatility, working at third, first, and the corner outfield. However, questions of whether he can play any of those positions well remain. If Andujar can't show improved defense, he could find Major League at bats hard to come by. That leaves Dietrich and Bruce to fight for the last spot. Both are low average, power hitting lefties with defensive versatility (Bruce can play 1B and corner OF while Dietrich can play 1B, 2B, 3B, and corner outfield). Given the versatility of DJ LeMahieu, this figures to come down to who hits more in camp.
You can flip a coin here, but I'm giving the edge to Derek Dietrich. He may not be the name that Bruce is, but he is more versatile and his been a better on-base threat for quite some time.
Now, let's look to the pitching staff. The top three of the starting rotation are set with Gerrit Cole, Jameson Taillon, and Corey Kluber. Jordan Montgomery probably has the inside track to the 4th spot in the rotation. He is the only lefty option, and will now be a year removed from Tommy John Surgery. He will have to fend off Deivi Garcia and Domingo German. Garcia pitched very well in his first taste of big league action, and gave the Yanks at least six innings in four of his six starts. He figures to be the favorite for the fifth spot, but will have to fend off Jhoulys Chacin and Domingo German. German has already made waves at camp for all the wrong reasons which could hurt his chances to make the roster (although he could find himself in the bullpen if he misses out on a rotation spot). German did win 18 games before his 2019 suspension, but the underlying numbers suggest he was the beneficiary of quite a bit of luck. He is now a year removed from pitching in the big leagues, and did not look good in winter ball. Chacin is on a minor league deal, but isn't far removed from being a quietly solid starter as recently as 2018.
The back end of the bullpen is deeper than it has been in quite some time. Aroldis Chapman, Zack Britton, and Chad Green return to form a three headed monster at the end of games, and Justin Wilson and Darren O'Day join the squad as part of the bridge to those guys. Assuming Luis Cessa's and Jonathan Loaisiga's recent successes out of the pen have them as bullpen locks, there would just be one spot left in the bullpen. Domingo German could take the spot if he loses out on a rotation spot. Albert Abreu is a darkhorse option for the spot. He is out of options and would have to pass through minor league options if he does not make the roster. However, he has struggled with command in his career and has not pitched above AA other than his 1 1/3 inning cameo in the Bronx last season. Michael King, Brooks Kriske, and Nick Nelson also figure to get extended looks this spring, but all could also benefit from riding the Scranton Shuttle this season as needed. The Yankees have some interesting non-roster invitees in Adam Warren, Asher Wojchiechowski, Addison Russ, Jhoulys Chacin, Kyle Barraclough, and Nick Goody who could take the final spot. Warren has proven he can pitch in New York, but is trying to come back from Tommy John Surgery. Nick Goody is back for his second stint with the Yankees after coming into his own in Cleveland where he was a big part of their bullpens in 2017 and 2019. Barraclough is high upside arm who struggles mightily with walks. Wojchiechowski has struggled to find much success in the majors. Lastly, Russ has yet to debut in the majors. Look for Goody, Warren, Chacin, and German to have the inside track to this job.
Prediction: German still has a minor league option remaining and could benefit from some time down in Scranton as he works the rust off. If Jhoulys Chacin can regain his 2018 form, his ability to provide length could give him the edge as the Yankees look to limit innings for their starters coming off of the shortened seasons and injuries.